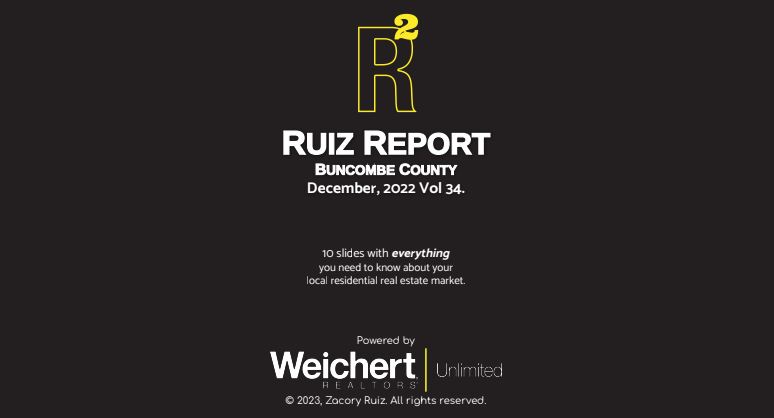 Buncombe added 32 less new listings to the market than it took off
(put under contract), which decreased the overall supply. Home
sales (closings) decreased in December, just remember that many of
those homes went under contract in a previous month.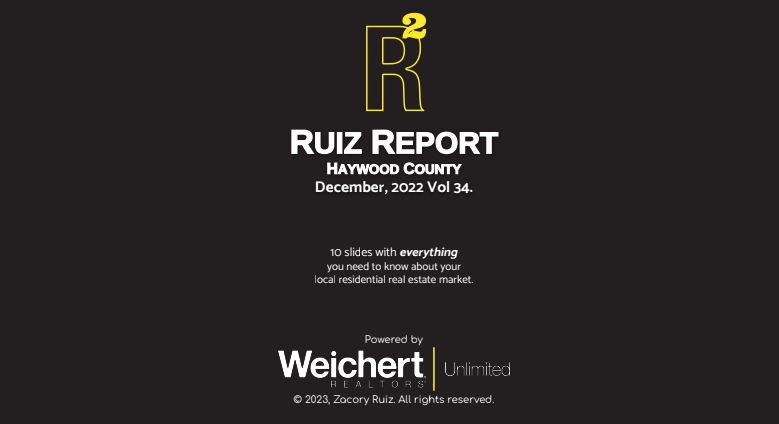 Haywood added 11 less new listings to the market than it took off
(put under contract), which decreased the overall supply. Home
sales (closings) decreased in December, just remember that many of
those homes went under contract in a previous month.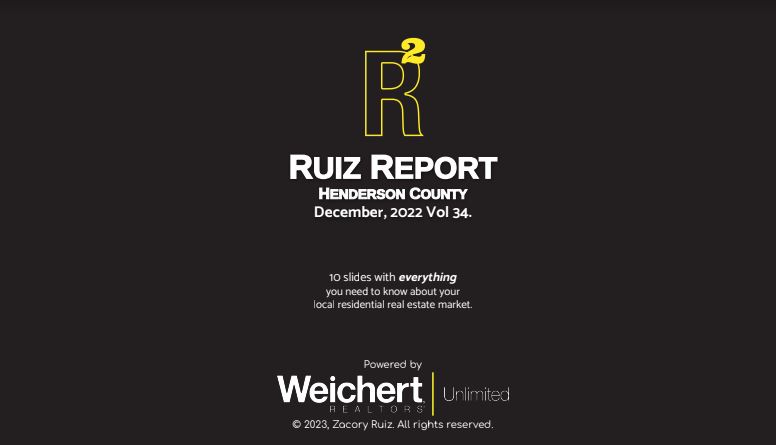 Henderson added 20 less new listings to the market than it took off
(put under contract), which decreased the overall supply. Home
sales (closings) decreased in December, just remember that many of
those homes went under contract in a previous month.
Testimonials
" Cathy Carter was wonderful! She helped us out a lot as first time home buyers. Thank you, Cathy! "
- Alyssa & Peter M
" We can't say enough good things about Andrew Lanteri. Besides being ultra-professional at all times and working very hard for us, he was a delight to interact and be with. He represented us in the sale of our home and although we weren't able to purchase at this time, we hope to be doing so in the near future. We wouldn't think of asking any other agent to represent us in buying our new home when the time is right. We truly love Andrew's honesty, work ethic and sense of humor. We have already recommended him to a someone and will continue to do so with great confidence. "
- Susan Kort
" From the day I listed until after closing, Caleb and his group were informative, courteous, communicative and knowledgeable. Already listed 2 other properties with Caleb Pohlman in Lake Lure! "
- Lori L.
" Rick Sharpe was the perfect agent and we were pleased beyond measure. He helped us sell two properties and went above/beyond what most people would do for their sellers. He made the whole process easy, he was always prompt, and made it more than a business transaction which was more than what we could have hoped for. Rick will always be our go-to for any future needs in the selling and/or buying market. "
- Leonard Whitaker
" Words cannot express how grateful I am that Andrew Lanteri was my realtor. I swore I would never buy again but after talking with him, it's the best decision I have made. He treated me with respect and listened to what I was looking for in a home. His keen eye and vast knowledge were impressive. He made the process seamless. I was throwing money out the window by renting all these years.Now I have a home that is mine. Thank you, Andrew. You ARE the best. "
- Daniela S.
" Working with Cathy Carter was smooth, uplifting and productive! I felt heard regarding my wants and needs with what I was looking for in a home. She was patient, understanding and had a keen sense of what could work for me. Cathy easily navigated the evolving changes that came up for me. Carving out what best would meet my needs and with swift execution, the right property was found. A contract was signed. All transpired within a month's time! "
- Joannie S.
" I worked with Andrew Lanteri at the Asheville Office. I had a Home Builder Company, but no property to build it on. I found Andrew helpful, thorough & hard working. Andrew took the time to get to meet me face to face, know me & my property needs. I think maybe I was lucky to find the property I now own with only 1 week of searching, but I am happy with my results. Now I own some property & next year my Home Builder will begin construction on my new home. I would recommend Andrew Lanteri & his co-workers if you are looking for property or an existing house. Thank you Andres. "
- Danny DeYoung
" Nedra Creason was great to work with! We had been looking for over 2 years and had previously worked with another agent/agency. Nedra made the home-buying experience so much better and easier. Thanks Nedra! "
- Rachel T. & Aaron P.
" Working with Cathy Carter has been wonderful. She is very knowledgeable, pleasant, patient and I appreciate her so much! Now that she has helped me find MY home, I'm looking forward to [working with her on] the sale of my Dad's home! "
- Suzanne B.
" Denise [Fournier] was amazing! She made the experience so much less stressful than it could have been. She helped organize inspections, coordinated absolutely everything, and kept me in the loop on all the things I never would have known to ask. On top of being a great realtor experience, she's also a genuinely kind human being, and it really showed through in her work. Denise was perfect. Best experience I could ask for. "
- Katelin R.C.
" We appreciate Kenna so much! She worked tirelessly to help us achieve our goals! She is the one you have over to dinner in your new kitchen when it's all said and done, because by that point she feels like a friend. And she is. "
- Margaret P.
" I wanted to pass along our commendation for Maddison's work when we bought our home last year. In short, she was superb. We lived 7 hours away, so she did many video walkthroughs with us, as well as perhaps 20 in-person walkthroughs. We had a fairly specific list of needs & wants, which she quickly understood. I was very impressed with her thoroughness and her judgement. She didn't hesitate to point out positive and negative details in many of the houses we saw, which was extremely helpful. We came to have a very high degree of faith in her - much more so than any other realtor we worked with for our previous houses. Overall, she was excellent, and we'd be delighted to work with her again if the opportunity arises. Kudos for having her on your team. "
- Chris Reynolds
" Wow! The best experience I could have asked for. Very knowledgeable and understanding. Our closing process was a bit lengthier than we anticipated, but we were reassured that everything was going to be fine, and it was! I highly recommended Weichert, Realtors - Unlimited. "
- Heather B.
" Andrew Lanteri took exceptional care of me and made my selling/buying process seamless. I could not be happier. "
- Jennifer B.
" Nedra Creason is extremely helpful, thoughtful and just a wonderful person. Thank you, Nedra! "
- Samuel A.
" Aaron Kraft is an amazing realtor! This was not our first time working with him. He has helped not only us, but our friends and family find their dream homes, too. Aaron is a wonderful person and a pleasure to work with. "
- Josh and Lauren W
" Cathy Carter of Weichert, Realtors - Unlimited goes out of her way to understand not only what type of property you want….but what type of property you need….and why! Cathy never seemed to grow weary in the search for the perfect property for us! She was forthright and eventually made a strong recommendation on a property that would earn her "less" commission….because her main concern was for us, not for herself. Cathy is, like all of the folks at Weichert Realtors, a person of integrity. Lastly, when the situation called for immediate responses to close the deal, Cathy was there on time, all of the time. We gladly recommend Cathy Carter and Weichert Realtors to you whether you are selling or buying. If Cathy Carter is representing you, then you will be represented very well. "
- Ed & Vicki G.
Previous
Next