Call, Text or Email for a Relaxed Conversation
About Your Career and Weichert, Realtors - Unlimited.
Office: 828-687-1083
Aaron's cell: 828-545-9953
Email: akraft@weichertunlimited.com
Career Opportunities
Weichert, Realtors® - Unlimited is a different kind of real estate company. We blend old school methods that cultivate success (proven over nearly 40 years) and brand new innovative technologies that are one of kind. We are fully in love with real estate and with the Weichert brand. We can't wait to share our culture of teamwork, success, giving back and fun with you!
New Agents: Why Begin A Career In Real Estate?
• Unlimited Income Opportunity
• Flexible Schedule
• Control Over Your Time
• Multiple Sources of Business
Experienced Real Estate Professionals: Why WEICHERT?
• Management Support
• A Culture of Teamwork, Success, Giving Back and FUN!
• Tools and Systems that WORK!! Proven by the nations largest privately owned real estate company.
• Multiple Source of Leads
• Best Value Package in the industry!
---
Click here to read more about the resources we provide to our agents.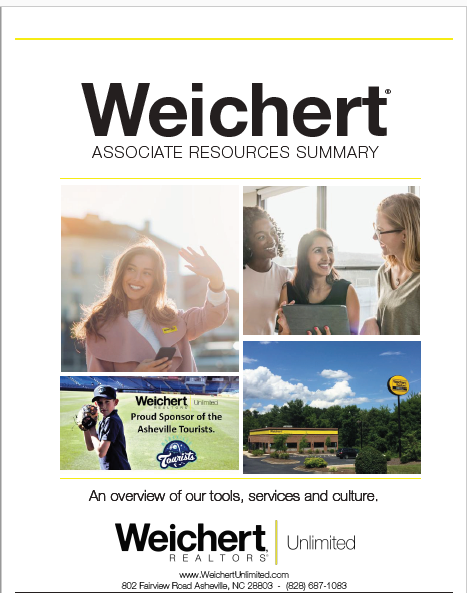 AGENT TESTIMONIALS
This is a great place to work especially for someone just starting out in real estate. The office environment is open and supportive, and there are lots of free tools and training to get you going quickly.
I've been with Weichert Realtors Unlimited since the beginning of my real estate career. Aaron and the office team is always there to help and answer any questions. The training is thorough and always there if you need a refresher. Aaron is always looking and improving things at our office which shows how dedicated he is to the agents so that the agents can succeed. I whole heartedly recommend this company.
I began my real estate career with Weichert, Realtors - Unlimited after interviewing with many other firms. There was no other firm where I felt I was being told everything upfront and honestly. The tools I have been provided have enabled me to grow my business to levels I never imagined possible. The support from the office is unparalleled.